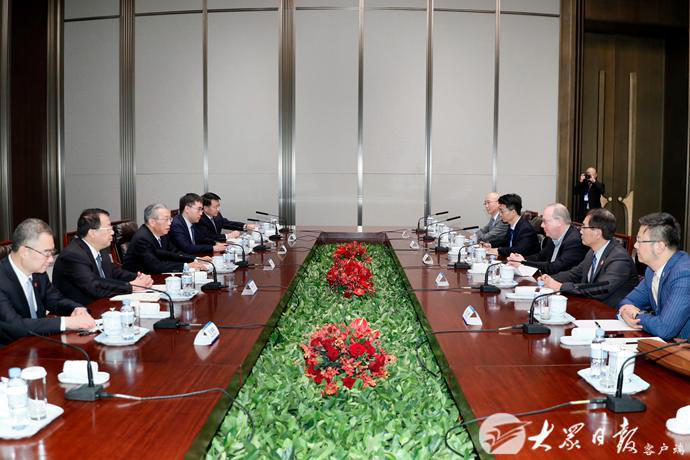 October 18, Jiayi Liu, secretary of Shandong provincial committee, Zheng Gong, deputy secretary of Shandong provincial committee, governor of Shandong province, met with multinationals' eepresentatives who attend the Qingdao Multinationals Summit in the Qingdao International Conference Center.
Mr.Liu extended a warm welcome to all the guests. He said:"This year marks the 70th anniversary of People's Republic of China. As a major province with sound economic development, large population and rich culture in the east cost of China, Qingdao has made great economic and social changes due to the further implementation of the opening-up policy. In a world as polarized, economically globalized, socially informationized and culturally diversified as today, it is only through opening-up and cooperation can we have better development. I believe this Summit will boost our confidence in cooperation between multinationals and China. It will encourage multinationals and other organizations to share the development opportunities with Shandong province to create a bright future. We hope to build more communication platforms, get more support and help from the United Nations in China to strengthen our cooperation with Asian Infrastructure Investment Bank. I believe with our joint effort, our cooperation will only be better."
UN coordinator in China Shili Luo and multinationals representatives expressed their gratitude to the welcome of Shandong province. He said that Qingdao is a very beautiful place. This Summit will help UN to carry out our works.