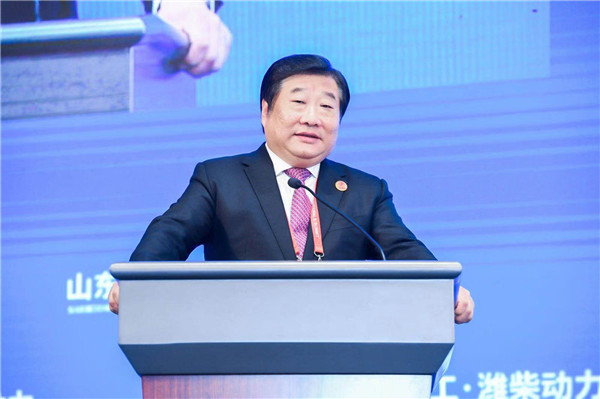 Weihai Power, a leading Chinese heavy-duty truck and components developer, shared its experience in global cooperation at the first Qingdao Multinationals Summit, in Shandong province on Oct 19.
The group has been expanding in the global market by investing in industrial giants, including German truck supplier KION, French marine engine producer Moteurs Baudouin, and Italian yacht maker Ferretti.
"The key to our strategy is adopting a specialized model, namely the Weichai WOS Management Model," said Tan Xuguang, chairman of Weichai Power at the opening ceremony.
The core theory is to unify management languages with index, improve operation efficiency with order, target customer needs with culture, and promote enterprise value with quality, according to Tan.
Highly compatible and adaptable, the model has proven successful in Weichai Power's subsidiaries at home and abroad.
In Weichai Power, said Tan, the operation of overseas subsidiaries is led by native teams and managers and assisted by executive groups from China.
Currently, Weichai Power's overseas business accounts for 40 percent of its total revenues. In the past five years, the compound annual growth rates of overseas revenue and profit raised respectively by 30 percent and 47 percent, making the Weichai brand known across the globe.
Tan also noted that investors must have an open mind and seek for cooperation rather than control.
"Investment is not for one side," added Tan, "The term 'mergers and acquisitions' is not in my dictionary. To me, investment is all about cooperation and profits for both sides."
China has become a center of the global automobile industry, said Volkmar Denner, CEO of Bosch, at the first Qingdao Multinational Summit in Shandong province on Oct 19.
"It is particularly worth celebrating that China has made remarkable achievements over the past 70 years," noted CEO Denner.
Thanks to the 40-plus years of reform and opening-up, China is now the world's second-largest economy, the largest manufacturer as well as exporter, and the second-largest investor in scientific research.
The country has developed into a major powerhouse of the global automobile industry, according to Denner.
With some 70 factories, the country manufactures over one-fourth of the world's new automobiles. Despite a recent slowdown, the country still boasts the world's biggest market with hundreds of millions of potential car-buyers.
"We believe the market is far from saturated," said Denner, "Bosch still has huge growth space in China over the medium and long term."
This year marks the 110th anniversary of Bosch entering China in 1909. The German automotive supplier currently employs some 60,000 associates in China, the largest Bosch workforce outside Germany. The group is always keen on collaborating with local enterprises.
The cooperation between Bosch and Shandong Heavy Industry Group (SHIG), for example, can be dated back to 1999. To date, their partnership has extended to the joint R&D of new-energy vehicles, fuel cells, and related technologies.
"Joining forces with SHIG raised our expectations on fuel cell technology," said Denner, "Together, we will be fully committed to this course and further expanding the market."
After over 110 years of localization, Bosch (China) has developed into a native group with deep roots in the country.
"We devote ourselves to meeting the needs of Chinese customers and building a second diesel plant in Qingdao is the best proof," said Denner.